CTP Group Privacy Policy & Terms and Conditions
CTP Group LLC Terms and Conditions
By Enrolling into a course or courses provided by CTP Group LLC you agree to comply with all terms and conditions listed below, any violations of these policies can and will result in immediate loss of course access and participation in any courses provided by CTP Group LLC indefinitely.
1. General
CTP Group is the sole provider of Online Training Courses as follows:
The Business Training Institute
The Finance Training Society
Certified Translator Professional Program
Any unauthorized use of the programs, trademarks, logos, or any content provided by CTP Group will be prosecuted to the fullest extent of the law.
2. Proprietary Rights and Permitted Use
CTP Group or its licensors own all intellectual property rights (including copyright and database rights) in the Content.  You acknowledge that "CTP Group LLC", "The Finance Training Society", "The Business Training Institute" and "Certified Translator Professional Program" is our trademarks and that you may not use it without written permission from CTP Group LLC.
You may on a non-exclusive basis, for your own legitimate business or personal use:
Retrieve and view Content on any compatible device; and
Where Content is available for download, you may download and store a single copy on a storage device personal to you such as a USB drive (but not on any shared drive, shared server or other storage device connected to a network).
You may not (and may not permit any third party to):
Except as expressly permitted above, copy, reproduce, broadcast, transmit, modify, abstract, create derivative works of, store, archive, aggregate, publicly display, redistribute, share, forward, license, sub-license, publish, sell or in any way commercially exploit any of the Content;
Share your username, password or any other website access details ("ID") with any individual or other third party;
Post the Content nor answers to any homework or test questions to newsgroups, mail lists, electronic bulletin boards, homework sites, content aggregators, file storage services or any other online destination;
Make your ID available to multiple users, including on a network or within an organization;
Remove any copyright or trade mark notices from the Content;
Frame, harvest or scrape the Content or do anything similar; or
Use the Content for any unlawful purpose.
We reserve the right to monitor your use of the Content and any service.
ALL RIGHTS RESERVED BY CTP GROUP LLC UNDER THIS AGREEMENT ARE WITHOUT PREJUDICE TO OUR OTHER RIGHTS AT LAW (INCLUDING APPLICABLE COPYRIGHT LEGISLATION).
3.Registration
All information submitted for registration for the use of our content and service will be used in accordance with our Privacy Policy.
You must provide accurate information, or your registration may be canceled at any time without notice. Registration is restricted solely to the registrant and cannot be shared with any other parties. If you believe any information has been compromised in relation to your enrollment in one of CTP Group's course, please contact us immediately via email in relation to your program.
CTP Group LLC reserves the right to change, suspend, or terminate access at any time due to lack of payment for a subscription.
4.Payment
Payments will be submitted in US dollars, any conversions from other currencies are at the expense of the registrant. Taxes may also apply.
Payment Methods Accepted:
Credit/Debit Cards: Visa, Mastercard, American Express, Discover
PayPal
Wire Transfer
MoneyGram or Western Union
By submitting payment via Credit/Debit card, PayPal, or Wire Transfer you agree that all the information submitted is accurate, and you are the owner or authorized by the owner of the account to submit payment from the account. Any unauthorized use will result in termination of course access and immediate refund of fees and may also result in criminal activity being reported to the governing law enforcement body.
5.Authorization for Use Information
You authorize CTP Group use of your name, photo, voice, testimonial, and other relevant information to be used only for promotional or marketing content, digital or print, in relation to the course or courses you participate in. You acknowledge you will not be compensated for use of your information and waive rights to claim against CTP Group including claims of defamation, a right of publicity, copyright, or any other violation of law.
6.Subscriptions
CTP Group offers subscription-based payment plans to prospective enrollees. These subscriptions will be billed automatically on the same day of the month each month through the same credit/debit card until completed or canceled. CTP Group reserves the right to change terms of the subscription at any time including the price and length of which you will be notified. By subscribing to a payment plan pricing will remain for the duration of the plan and there will be no adjustments based on new pricing or promotions that become available after you subscribe to a payment plan. Cancellation of subscription prior to completion will result in loss of access to the program and forfeiture of previous funds paid as apart of the subscription. By enrolling in the subscription, you agree to begin enrollment immediately and are not entitled to a refund except as defended by the refund policy. To cancel your subscription please email support@translatorcertification.com and put #Cancel in the subject line.
7.Refund Policy
CTP Group LLC offers a 14 days refund policy from the date the initial enrollment payment was submitted to CTP Group LLC. Refunds can be redeemed by sending an email to support@translatorcertification.com along with the reason for cancellation. Any requests made after the 14-day period will be denied. Book purchases are final and will not be refunded. If you purchase a package that includes the book the value of the book will not be refunded.
8.Transfer or Substitution of Courses:
CTP Group will not allow the transfer or substitution of the course or courses.
9.Third Party Websites and Content.
CTP Group LLC assumes no responsibility for any materials posted by third parties on any of the CTP Group LLC websites or accessed on the websites through hypertext or other computer links to sites hosted by third parties that are outside of CTP Group LLC's control ("Third-Party Site"). CTP Group does not endorse products, services or information provided by such third parties and shall not be responsible or liable, directly or indirectly for any damage or loss caused or alleged to be caused by or in connection with, use or reliance on any content, goods or services available on or through any Third-Party Site or otherwise posted by third parties on any of the CTP Group LLC's websites.
10.Queries
Queries and Complaints must be submitted in writing via post mail or email with full details of dates, times, and full description of the matter. Each complaint will be handled on a case by case basis and resolved at the discretion of CTP Group LLC in the best interest of both CTP Group and the complainant in accordance with all U.S. laws and regulations.
11.Scholarships
You may apply for a partial scholarship from CTP Group through the application process. CTP Group reserves the right to award partial scholarships on a case by case basis.
12.Program Structure, Technology Requirements and Expiration
CTP Group offers self-study courses only. Courses must be complete within 1 year of registration date with a satisfactory score of 80% to earn certification. If course is not completed within the timeframe a new registration will be required and a discount may be offered. In order to access the course or courses a computer is recommended either Windows 7+ or Mac iOS and a stable internet connection is required.
13.Program Updates
CTP Group will review courses and contents on a quarterly basis for quality assurance. During these reviews CTP Group will provide updates to course contents (text publications, audios, and video modules) and the most relevant and update information as new information becomes available. These updates and changes will be made without notice to the program participants. While quarterly reviews will take place updates will made as needed.
14.Limitations and Exclusions of Liability
This section is important and you should read it carefully. It makes clear to what extent, if any, CTP Group accepts responsibility (liability) to you for your use of the Content and the services provided by CTP Group LLC.
The Content and this website is provided on an "as is" and "as available" basis.  While CTP Group endeavors to provide programs that are current and up-to date, these programs, and the associated courseware, are provided on an "as is" basis.
We are not liable to you for matters beyond our reasonable control, for the internet, for acts of God, or acts of third parties.
We are not responsible for any use of Content by you outside the scope of this Agreement.
We do not accept any liability to you for the Content or this website if you have not paid any fees to CTP Group LLC.
We do not make any promises as to the availability, quality, security, completeness or accuracy of the Content or this website, or that it is free from any viruses or anything similar.
We will try to develop the Content and operate this website with reasonable skill and care and will use reasonable efforts to remedy any fault of which we become aware.  This is the only promise we make in relation to the Content and this website.
The Content is only for your general information and use and is not intended to address your particular requirements.  It does not constitute any form of advice, recommendation, representation or endorsement and should not be relied upon by users in making (or refraining from making) any specific business, investment or other decisions.
TO THE FULLEST EXTENT ALLOWED BY APPLICABLE LAW, WE DISCLAIM ALL WARRANTIES, REPRESENTATIONS, CONDITIONS AND DUTIES OF ANY KIND, INCLUDING WITHOUT LIMITATION, ANY WARRANTIES OF SATISFACTORY QUALITY, MERCHANTIBILITY OR OF FITNESS FOR A PARTICULAR PURPOSE. CTP Group DOES NOT WARRANT THAT THE CONTENT, ANY PROGRAM OR ITS COURSEWARE WILL MEET ANY PARTICULAR REQUIREMENTS OR NEEDS, OR THAT THE CONTENT OF OR THE COURSEWARE FOR ANY PROGRAM WILL BE ERROR-FREE. Neither CTP Group nor its licensors shall have any liability to YOU FOR any INDIRECT, CONSEQUENTIAL, SPECIAL, incidental, punitive or exemplary damages, including, but not limited to, Lost profits, lost revenues and loss of data, WHETHER OR NOT WE HAVE BEEN ADVISED OF THE POSSIBILITY OF SUCH DAMAGES, AND ON ANY THEORY OF LIABILITY.
WE LIMIT OUR FINANCIAL RESPONSIBILITY TO YOU ARISING FROM YOUR USE OF THE CONTENT OR THE SERVICES OR OTHERWISE IN RELATION TO THIS AGREEMENT TO DIRECT DAMAGES ONLY, SUBJECT TO A LIMIT EQUAL TO THE PRICE YOU PAID FOR YOUR SUBSCRIPTION OR THE SERVICES.
THE LIMITATIONS OF LIABILITY IN THIS SECTION 14 APPLY FOR THE BENEFIT OF CTP Group LLC, ITS LICENSORS, AFFILIATES AND ALL OF THEIR RESPECTIVE OFFICERS, DIRECTORS, EMPLOYEES, AGENTS, SUCCESSORS AND ASSIGNS.
Nothing in this Agreement shall operate to exclude or restrict our liability for death or personal injury caused by that party's negligence; for fraud or fraudulent misrepresentation; or for any liability which cannot be limited or excluded by law.
15.Choice of Law and Jurisdiction
If you are resident anywhere in the world other than the United States, this Agreement shall be governed by, and construed in accordance with, English law and to the extent possible in the applicable jurisdiction, you and we irrevocably agree that the courts of England shall have exclusive jurisdiction to settle any dispute which may arise out of, under, or in connection with this Agreement.
If you are resident in the United States, this Agreement shall be governed by, and construed in accordance with, the laws of the State of Florida, United States of America, without regard to any conflict or choice of law principles and you and we irrevocably agree that the appropriate federal or state court in Miami-Dade County, Florida shall have exclusive jurisdiction to settle any dispute which may arise out of, under, or in connection with this Agreement.
16.General
You may not assign, sub-license or otherwise transfer any of your rights under these terms and conditions.   You agree that we may assign any of our rights or delegate any of our duties or obligations under this Agreement without your consent to any third party, including in connection with a reorganization, merger, consolidation, sale of assets or other similar transaction.
If any provision of these terms and conditions is found to be invalid by any court having competent jurisdiction, the invalidity of that provision will not affect the validity of the remaining provisions of these terms and conditions, which shall remain in full force and effect.
Failure by either party to exercise any right or remedy under these terms and conditions does not constitute a waiver of that right or remedy.
Headings in these terms and conditions are for convenience only and will have no legal meaning or effect.
This Agreement constitutes the entire agreement between CTP Group and you as to the Content and services and supersedes all previous agreements, communications, representations and arrangements, either written or oral.
Privacy Policy
CTP Group LLC takes privacy very seriously. We protect the personal information of all registrants and will not distribute any contact or personal information to any other agency. We may use your information to contact you regarding market research.
GTI Certification Designation Usage Policy of CTP logo
The Global Translation Institution accredits the CTP in offering an exam to test student's competency in translation. Passing the exam and earning their designation as a Certified Translation Professional (CTP). Upon completion of the course and earning this designation you are able to demonstrate that you are a professional in the industry. This will not only show your competence but enhance your growth in the industry through the certifying translation school.
Who can use the CT designation?
Candidates who passed the CTP certification exam are entitled to use the designation CTP designation after their names.
For example:
Jane Doe, CTP
GTI-Certified Translators may also refer to their certification on or in connection with resumes, cards, stationery, websites, advertisements, professional literature, and the like. The CTP designation may not be used in a misleading, inaccurate, fraudulent, or illegal manner, or for other improper purposes.
The CTP designation must be:
In capital letters;
In type or lettering no larger than that of the designated member's name
Set solid without a period or space after each letter of the designation.
The CTP designation should include the language pair and direction.
Where possible, the language pair(s) and direction(s) of the certification should be provided to most accurately reflect the certification.
For example:
Susan James, CTP (Spanish <>English)
Susan James, CTP (English <>Spanish)
Susan James, CTP (English<>Spanish, English<>French, English<> Portuguese)
Jane Doe, Certified Professional Translator from Spanish <>English
The CTP designation is owned by GTI.
Any improper use of the CTP designation is subject to review and approval by GTI. The association also reserves the right to take legal or other action to protect its rights in the event of any unauthorized or impermissible use of the CTP designation.
The CTP Digital Seal uses.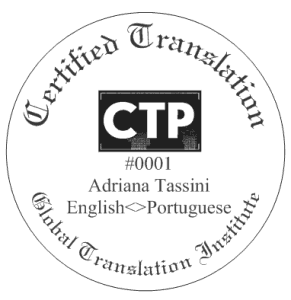 Any improper usage of the CTP seal is subject to legal action by the GTI. The Association reserves the right to remove and revoke any misconduct or misrepresentation of the seal.
All rights and authority are approved by the Global Translation Institute.